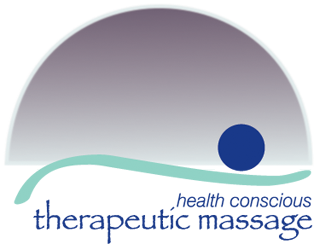 Changes at clinic due to Covid 19
As of noontime on Friday, July 9, 2021, PEI has made it no longer mandatory to weak a mask indoors. I have given it lots of consideration and will still require clients to wear a mask in my office for the time being. My work is hands on and therefore, we cannot socially distance. I hope that this does not upset people but we have all been wearing masks to keep each other safe for over a year, what is a little longer to keep us still safe? Thank you. - Beth
I will be increasing frequency of disinfecting/sanitizing/cleaning of my treatment room, washroom, handrails and handwashing sink area.
There is a handwashing sink outside my treatment room that you may use to wash your hands as you enter or I will have hand sanitizer in my treatment room.
I will be washing and sanitizing my hands even more frequently now.
By order of the Provincial Health officer there is to be no one in the waiting room other than the person having treatment. So, if someone is with you, they will have to wait in your vehicle. I will do my best to take you into the treatment room as soon as you finish at the hand wash sink, so you won't have to use the waiting room. Therefore, please do not come too early for your appointment as you will have to wait in your vehicle until 5 mins before your appointment time.
College of Massage Therapists of PEI have requested that a new Covid 19 Health Assessment questionnaire to be completed before every treatment, which will be kept in your file.
I will be self-monitoring for Covid 19 daily.
I would ask you at this time if you or anyone you have come in contact with have returned from out of province or have any symptoms of Covid 19 please called me to cancel/reschedule your appointment immediately. Needless to say, under Covid 19 restrictions my 24-hour cancellation policy is not being applied.
Please also note that due to these new procedures if you leave a voicemail or email, I may not have time to get back to you until the end of the day.
We will now be having everyone enter through the front door and exit via the backdoor/ramp.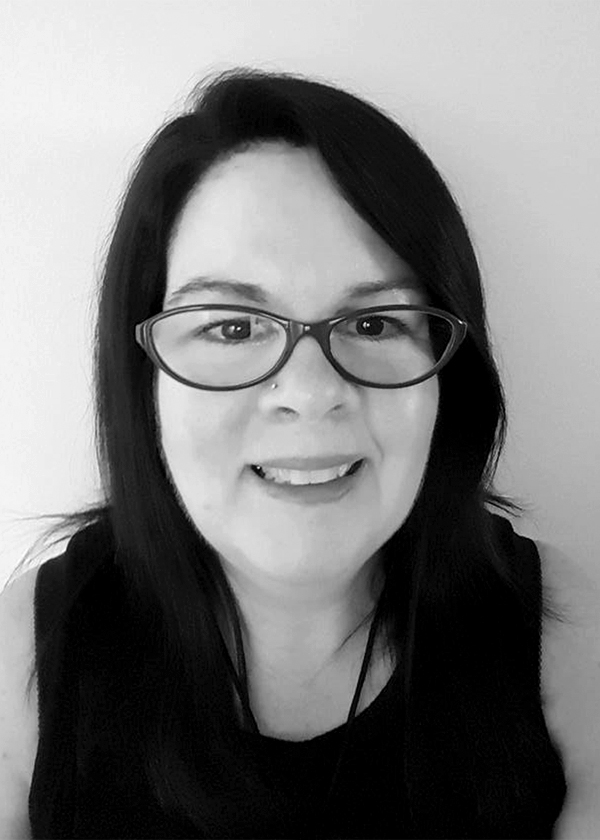 Since 2000, Beth MacKenzie RMT has focused on providing her clients the opportunity to relax, rejuvenate and repair their bodies.
Massage therapy is the assessment and treatment of the soft tissues and joints of the body. These tissues include muscles, ligaments and tendons. Every day, activity, injury or disease can lead to muscle tightness, pain and spasm.  Massage therapy works to relieve these muscular conditions by manipulating and massaging the soft tissues with "hands on" treatment.
Massage therapy increases circulation and maintains tissue health, therefore increasing the range of motion and decreasing pain and discomfort. Prevention is the best route to avoid stress and injury.  Routine massages can prevent high blood pressure, muscular pain while increasing flexibility, improving posture and a general feeling of good health and wellness.
Book your appointment today and experience the benefits of massage.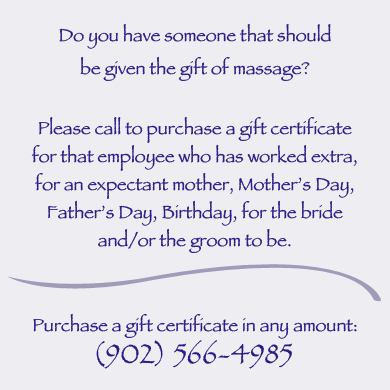 Relaxation
Therapeutic
Accident/Injury
Deep Tissue
Suikodo
Pre-Natal

(Using Pre-Natal Table)

Myofascial Release
TMJ Pain/Dysfunction
Craniosacral
30 minutes - $55.00
60 minutes - $80.00
90 minutes - $115.00
Note: All rates are subject to HST
and subject to change without notice
BOOK YOUR MASSAGE
CANCELLATION POLICY: 24 hours notice is required for cancellation or 50% of the total service fee will be charged.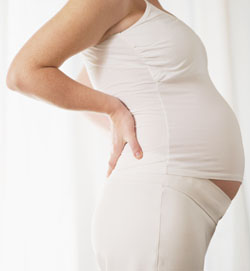 As the first Prince Edward Island Registered Massage Therapist to have a pre-natal massage table, Beth has offered the comfort and relaxation of massage for many Island women. Pre-natal massage allows for a mother-to-be that precious time to concentrate on her body through the benefits of massage providing relief for discomfort, back pain or sore joints. Using the specifically designed Pre-Natal Table, provides a safe, relaxing and comfortable solution for women during pregnancy allowing expectant mothers to find relief for their tired bodies without the limitations or discomfort of standard massage tables.
Pre-natal massage with Health Conscious Therapeutic Massage is the perfect gift for expectant moms or even new mothers. The ideal way to show you care by offering the time for her to relax and enjoy motherhood. Book an appointment or purchase a gift certificate in any amount.
Book an appointment or purchase a gift certificate in any amount.